Cyberpunk 2077 has managed to sell 15 million copies , and that's quite a large number. Cyberpunk 2077 provides comprehensive character customization allowing players to change their skin tone, eyes, eyebrows, nose, jaw, ears, scars, piercings, teeth, makeup, blemishes, breasts, body scars, genitals and even pubic hair. Choosing between voices (male and female) decides what gender the player character is, and the preferred mixture of voice and body shape (masculine and feminine) affects which romantic choices are open for the player in the game.
Can you change your character after the initial character customization stage?
The game allows to setup a character in the very start of the game, Gamers often do not spend much time into the customization as they are impatient to get started with the game and this is a big mistake.
Cyberpunk 2077 doesn't allow you to alter your face, tattoos, voice, piercings or hairstyle after the initial character customization segment, which is a bummer for most. As character customization makes one feel more immersed, and they are happier to play a character they fantasize, which is limited in this case. Hence be careful and take your time when creating your character for the first time as you are going to be stuck with your character for a long time.
But as you are here, then that means you have either changed your mind or made a mistake, so it is definitely too late. But don't worry as we can solve that issue (to some extent).
How to Change Your Face and Hairstyle in Cyberpunk 2077
The major outcry was for a feature to re-do or change your hair which has been heard by the modding community (as this is a single-player game). A modder going by the name Admiral created the mod Arasaka Appearance Updater, which has been used by many. This mod allows the user to change facial hair and some facial features with a few clicks.
How to change hairstyle and facial features in Cyberpunk 2077
Download Cyberpunk2077 Mod .zip file.
Extract the folder (make sure it is on your "User" directory where the game save files are located, or manually select your save game folder)
Make sure to keep all DLL files in the same folder with the .exe
Open .exe file
Tweak settings from the available options as per your requirement
Enjoy !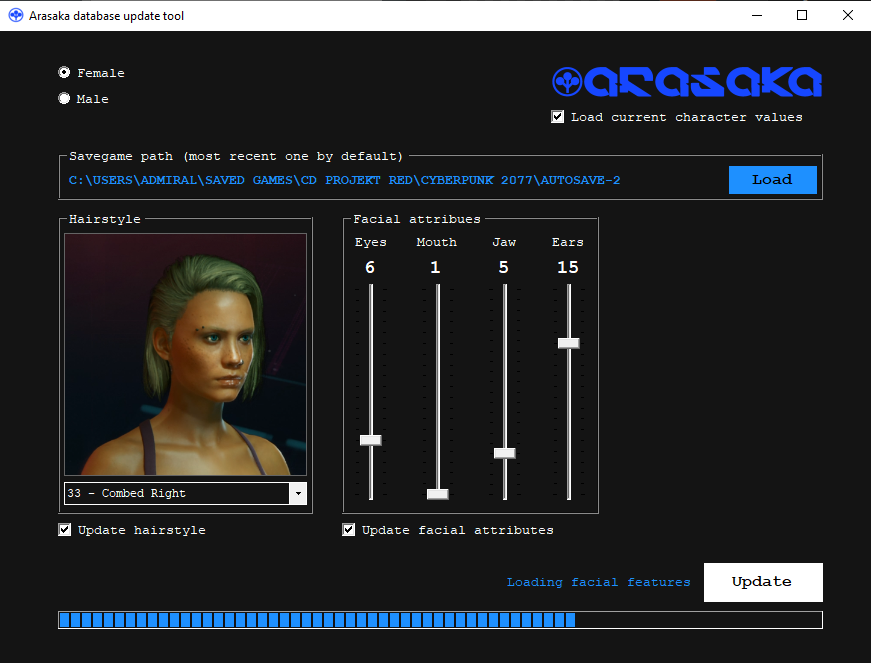 Conclusion
The Modder has stated that they are working on a way to change the hair colour and all other features too but also said that CD Projekt will eventually make these changes. But at the moment it seems CDPR is too busy in resolving other bugs. Exploding electric Poles, Scared NPCs and Weird NPCs are just some of the minor issues the game developers have to go about on fixing.
CD Projekt solved the character customization in Witcher 3 by adding DLC but considering that Witcher 3 was far more successful and didn't have a character that you created hence it would make no sense to release a DLC for this issue in Cyberpunk 2077. As of now, there is no official news about character customization from the developers.