How To Send Blank Message on WhatsApp
WhatsApp does not allow us to send a blank message, if we put spaces it disregard those.Blank Character is Shared at the end of the post , although when i emailed the character and opened it on my computer it turned into a Square block knowing that it might spoil it.
What is Blank Message and Status on WhatsApp
This Reminds me of my Old Discovery of the Reverse Character System Manipulation. Before we go ahead i would first like you to know what a "Bank Message" and "Blank Status" is on WhatsApp.
WhatsApp does not allow us to keep a Blank Status nor you can send a Blank Message to your Friends but if you see the images, I have kept a Blank Status and Sent Blank Message as well
How I discovered Blank Character
Well , There is a bug in how WhatsApp displays Emoticons and due to that bug I can even come up with Emoji's which are not available in WhatsApp by Default – although i have not fully figured out the mechanism so i will not share that more until i can come up with the logic behind it.As i was testing , the blank character came up
which i can share with you all.
How to Keep Blank Status on WhatsApp
Same as with the Blank Message , WhatsApp doesn't allow a Blank Status but by using the Blank Character shared at the end of the post you can also keep a Blank Status
Download Blank Character for WhatsApp
Get your BETA WhatsApp for some awesome Hidden Features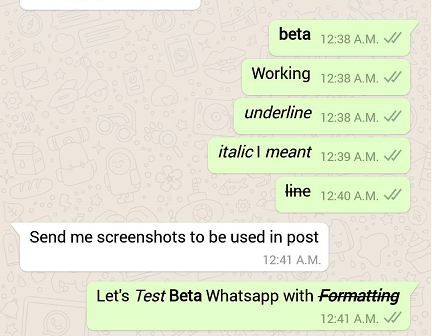 Format your texts or even add solid coloured backgrounds , multi delete option and many more , Go Beta Here