The first beta for Android 11 released on June 10, which showed everyone a bunch of cool new features like built-in screen recorder, notification history and much more. But the question is, will it be worth upgrading to? Well at least for now it isn't because it is loaded with bugs and unusable stuff which might be a nuisance for many. However, the future seems to be bright and somewhat complex, as many traditional options have either been removed or coupled with a newer method.
Timeline and Release date
In the middle of February, the very first Android 11 Developer Preview landed. The second preview released in March and the third preview released on April 23. On May 6, Google released its fourth surprise preview of Android 11 together with an updated 11 beta release timeline for Android. The 2020 Android update will be named Android 11 and not Android R where we guess what 'R' might stand for – not rumours, but reality, because Google itself has confirmed this. It is since Google decided to implement a numerical order system for its operating systems.
| | | |
| --- | --- | --- |
| Timeline | Build | Type |
| February | Developer Preview 1 | Early build based on developer's feedback having new features, API etc. |
| March | Developer Preview 2 | Additional functionality, APIs, and behaviour improvements have been modified incrementally. |
| April | Developer Preview 3 | Improving stability and speed. |
| May | Developer Preview 4 | Improving stability and speed. |
| June | Beta 1 | Final APIs. Play publishing opens. |
| July | Beta 2 | Platform Stability milestone. Final system behaviors. |
| August | Beta 3 | Release candidate build. |
| Q3 | Final release | Android 11 release to AOSP and ecosystem. |
A blog post and a collection of developer-oriented videos were published on June 10 with the announcement of beta release. In July and August, updates will roll out and in September the final release will be launched.
Android 11 Beta Compatible Phones
These phones can currently run Android 11 beta :
Google Pixel 2 / 2 XL
Google Pixel 3 / 3 XL
Google Pixel 3a / 3a XL
Google Pixel 4 / 4 XL
OnePlus 8 / 8 Pro
Xiaomi Mi 10 / Mi 10 Pro
Many companies have already confirmed that they will soon get access to Android 11 but for now Google Pixel, OnePlus and Xiaomi can run Android 11 Beta.
Whats New In Android 11
Android 11 comes loaded with new additions, I highlight the best features of Android 11 which you will find useful and interesting
Built-in screen recording: Removes the need to use any third-party apps to record your screen. A long-awaited feature as most third-party apps required money to remove their watermark and the quality of recording will be a lot enhanced. Manufacturares like OnePlus already provided their users with inbuilt recording, but if this feature comes directly in stock , its a win-win situation.
Change touch sensitivity: Increasing touch sensitivity is now an option for people facing issues with their touch screen.
Improved app permissions: Previously, an app would either get your permission or not but now you can grant access to it for a single time as well. Moreover, the app's permissions can be revoked after a few months of inactivity. Another prominent improvement is that you can grant some apps access to location, microphone etc only when using that particular app.
Notification history: Notification history is important and also a long-awaited feature helping people to go through their notifications even though they were cleared or dismissed earlier.
Quick controls: Pressing the power options will show a lot of shortcuts like a flashlight or necessary things along with the standard restart, power off and emergency buttons.
Revamped UI and style: A lot of the stuff has been redesigned and changed to look aesthetically better or its design improves accessibility like the home screen, recently used apps and much more.
Bluetooth with Airplane mode: Bluetooth now works with Airplane mode. This has been done while keeping in mind how companies are removing the headphone jack (BUT WHY) in favour of Bluetooth hands free thus it seems natural to not disable Bluetooth when Airplane mode is activated.
Conversation bubbles: Google tried to push developers when releasing Android 10 to use the conversation bubbles, similar to the chat heads in messenger but now they are really going for it. The aim is for every conversation to be accessible via conversation bubbles. Personally the experience from Facebook Chat Heads isn't very positive but let see how they are incorporated with in Android.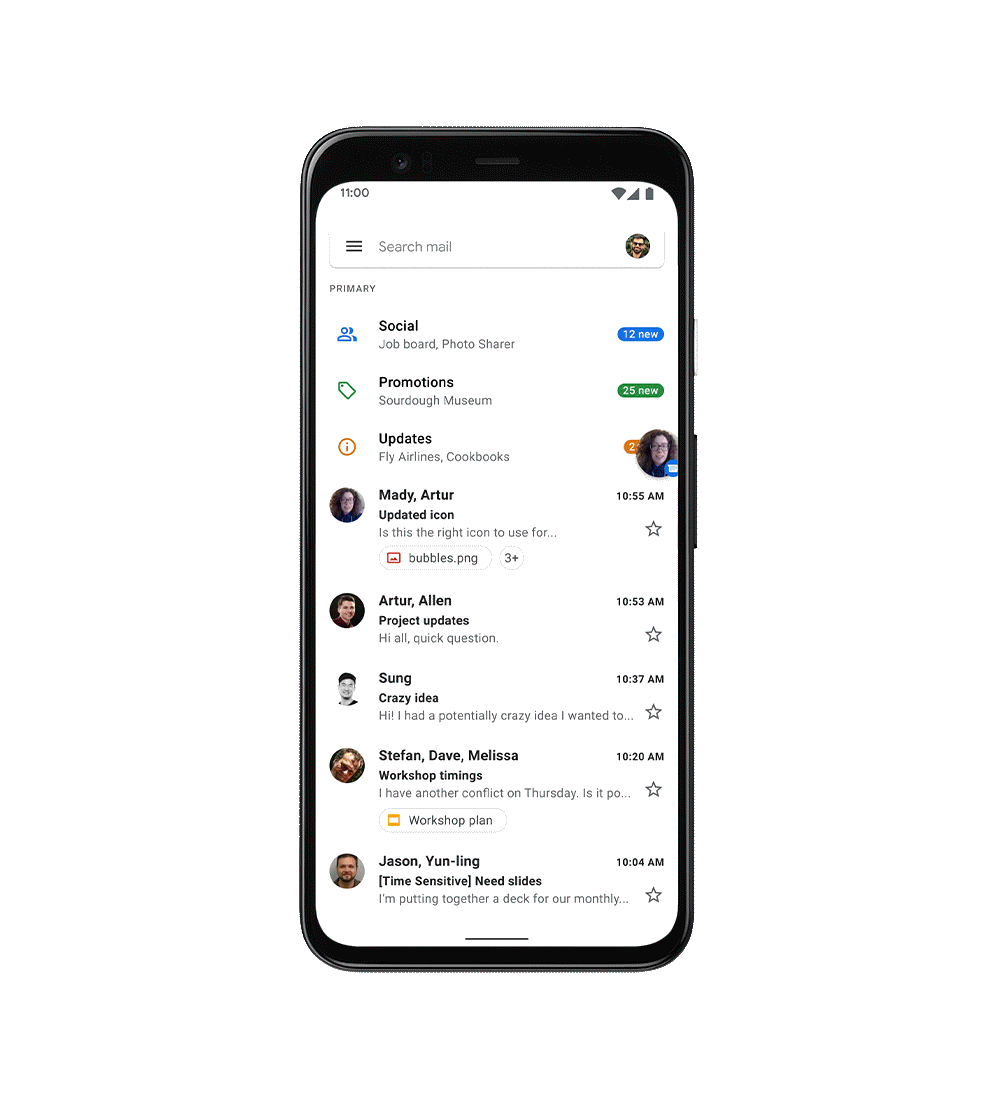 Dark mode enhancement: Dark mode is great but not much when brightness is required because you simply can't see stuff clearly. So Google has now introduced context-aware dark mode which turns the dark mode on and off according to the requirements.
App crashing feedback: When an app force exits or crashes. it will allow you to send that report to the developers so that they may fix the problem. Earlier feedback through app crashes were not intuitive but now it has improved alot.
Conclusion
A lot has improved and will be improved over time but the Android 11 is not just a revamped but a remastered version of Android 10. It has introduced a lot of new features and accessibility options which will most likely improve everyone's lives. There are important updates as well like the one-time permissions which can help improve the safety of the user's data. There have been major updates that a normal user will not notice but they are actually there for the developers to improve your experience like better debugging, faster APK installation etc. You can check out the Developers Android 11 Site for details about Android 11 Beta.