If you have been following WhatsApp Blog you must have read they announced a business version of WhatsApp with a 
 (green verified badge) next to confirmed businesses, but to get the business version we required to sign up for WhatsApp Business Beta User by filling in the survey as mentioned in WhatsApp FAQ. But as of yesterday WhatsApp is rolling out invitation emails for the business apps.
Update  ( 17 February 2019) : WhatsApp has launched WhatsApp business for iOS devices , now you can also install WhatsApp business on your iPhone. Detailed Features are same as they are for an Android device. Head over to the Apple store and install WhatsApp Business
Whats New in WhatsApp Business
A standalone app – allowing you to install WhatsApp Personal and WhatsApp Business on the same phone
A different App logo, as you can see on the top most image of this post
Business Settings & Statistics under Settings of the App

Statistics just shows the total number of messages sent, received, delivered and read – nothing fancy here
Business Settings has Business Profile and Automated Messages
Business Profile Tab has an expanding profile picture, name of your business, a Verified/ Unverified badge status and any other data you've entered like your location, address, website, email and business category. This is basically what customers will see when they add you and try to contact you. All this information can be changed simply by tapping the pencil on top right
Automated Messages a.k.a Away Messages are automated responses that your customers will get when they try messaging you and you're not available. You can set them to on, off or 'on a schedule'.

The message can be personalized to any text you want (+ emoji!). As for scheduling, You can set a start and end date and time. Recurrent options like every day or every Sunday for example should be possible, that way you don't have to manually turn it on every night or every weekend, a feature currently lacking

Ability to enable WhatsApp on a Landline number, a much welcomed feature

WhatsApp Business under different Tests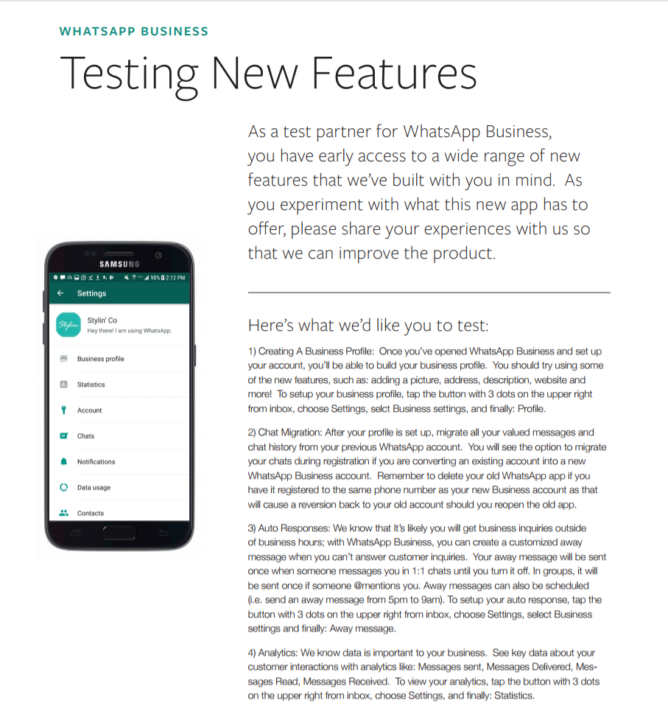 How WhatsApp Business treats Customers
If you have enabled WhatsApp Business on your mobile and someone adds that number to their contact list and contacts you, they will see a yellow briefing for end-to-end encryption (nothing new here) as well as a pop-up and yellow briefing that they're talking to a business account and it has/hasn't been verified yet.
If your client check your profile, they'll see all the details you've manually applied in your business profile like profile image, verification status, location, category, email address and web address etc.
Is WhatsApp Business for me ?
If you are a simple WhatsApp user who uses WhatsApp to communicate with friends and family , in that case WhatsApp Business is not for you as it will not offer anything good to you.
If you run a website / online store or an actual business you may consider opting in for WhatsApp Business as it will allow you to have another app on your phone with WhatsApp running on it so your personal number stays away from your work WhatsApp number it will save you alot of headaches
How to get Verified Status on WhatsApp Business
Currently you will have "unverified" status on WhatsApp Business as WhatsApp is manually enabling verification status to WhatsApp Businesses so that the service is not misused and the automated verification system will roll out after WhatsApp Business is pushed to the masses.
How to Install WhatsApp Business
WhatsApp Business for Enterprises
WhatsApp also plans to launch something for the big companies, "Enterprise" edition of WhatsApp Business. There is currently no beta for the Enterprise edition of WhatsApp Business App, but we might expect from WhatsApp Business for Enterprise edition
It will be paid from Big businesses (airlines etc)
It will allow easy respond options
it will allow one number to be connected to various smartphones
One number will be able to run from different WhatsApp Web editions
What do you think about WhatsApp Business version ? I think it is a handy version might get Hackology Verified WhatsApp Business too but what i foresee is that Facebook is going to merge this with Facebook Pages and add WhatsApp 'Call to Action' to make more money from WhatsApp
Images from Hüseyin Filiz