Update 2 : Electroneum has successfully launched a working iOS Mobile Mining App which works on iPhone and iPad devices, Apple store link added below with App details. (1 February 2019)
Update : Electroneum is giving away 2 Million ETN in a #ETN242 competition , you join in by getting more info from their official website or Facebook page. (Update 23 August 2018 : Competition is over )
After a delay of months, Electroneum re-launched their services while allowing wallet access yesterday and the relaunch did not go very smooth as majority of users had issues with signing in to their wallets while some weren't getting their Passwords reset or had troubles in receiving issues with verification SMS. In this post I will list all the issues and their fixes so It may help a few and will address some questions people are currently having.
Lets start addressing the issues
My Electroneum Account is locked on the website
Your account may have been locked as it has been flagged for security reasons. Electroneum has introduced a number of security systems in place and are looking into this for you, The team will try to get a resolution for you this week. You may expect an email directly if your account has been affected once they have an update.
I entered my email address wrong during the ICO/Token Sale.
Please open a new support ticket with the subject 'WRONG EMAIL', including in the message your wrong email address and your correct one. You will then be informed with the correct account recovery procedure as soon as possible.
I have not received my SMS confirmation
Go to https://my.electroneum.com/logout, and select Login. This will take you to the same stage and you should be able to re-enter your phone number and the should SMS come through. If you have not received the SMS within 1 hour, please repeat this process. If the problem persists, Electroneum is adding an option to skip this step at initial setup of wallet. Some users have reported that changing to a different browser has helped them fix this issue
I can't confirm my PIN/My PIN is not working
Some people experienced an issue with their PIN If you have been affected by this please log in via https://my.electroneum.com. You will then get to the PIN login screen. Please click on the PIN recovery link, to reset your PIN.
My Electroneum balance is not showing/Showing 0 ETN
As per Electroneum official statement, 'As you can probably understand we have experienced very high traffic on our website. We upgraded from 300 transaction servers at Amazon to over 3000. We are dealing with the backlog and you should expect to see your correct balance soon.'
I am not sure if those added AWS 3000 servers run on Raspberry PI or what but well they say that it will be fixed soon.
My balance does not show all the Electroneum coins that I purchased during the ICO/Token Sale
Many users have reported that their balance is not what they had during the ICO and users are having less coins which are random per user. To fix this open a new support ticket referencing how many tokens you believe you should have and how many you have now. Also include your username for https://my.electroneum.com and the team will look into this for you. When you open a new support ticket select BALANCE QUERY.
My Referrals Bonus ETN is not added in my Electroneum Wallet Manager
Electroneum team has mentioned that some users whose bonus electroneum is not added in their wallets will fixed in the coming week (7 days from 13th December 2017) you have two options either wait or open a support ticket with Electroneum and select Balance Query as ticket type but I would suggest to wait a week as currently the Support Team is under alot of stress /load so they may not answer an issue which is known and is being fixed as of now.
I have entered the wrong recovery email address.
If you click 'I haven't received the email' and try to log in again in after 2 hours you will be able to enter a new email recovery address.
Proper method of sending Electroneum to Cryptopia
**Very Important** If you transfer any Electroneum to Cryptopia.co.nz it is ESSENTIAL that you use a PAYMENT ID as part of the transaction (Cryptopiawill give you the PAYMENT ID you need for the transaction). If you only use the Cryptopia ETN address and fail to enter the payment ID, your ETN could be lost. To obtain your Payment ID follow these steps :

Login to Cryptopia
Hover mouse over the Bitcoin Icon (left of your username) and click on Deposit
Select Currency "Electroneum" (you can simply type ETN and it will appear) and hit Next
Here you will be shown your ETN Address and Payment ID
Always Put this Payment ID on your Electroneum Wallet Manager while sending ETN to Cryptopia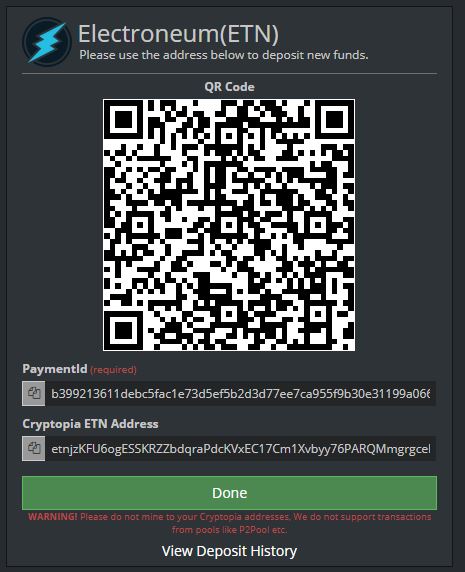 What is PaymentID to sent Electroneum from Cryptopia to Electroneum Wallet
No PaymentID is required, just enter your ETN Wallet address and hit Next. For sending ETN to Electroneum Wallet PaymentID is not required an can be BLANK
Official Electroneum Mobile Mining App ?
Android Electroneum App : Electroneum has released a new Android App and discarded their OLD App the Official App of Electroneum can be downloaded from Google Play Store : Electroneum
iOS – iPhone / iPad Electorneum Mining App : Today Electroneum has launched an official Mobile Mining App on Apple Store for iOS devices including iPhone and iPad. Enjoy mining ETN on your Apple devices, download the app from Apple Store : Electroneum
Currently Electroneum Mobile App does not support mining and it will be introduced in January 2018 (probably)
Note: Issues related to Electroneum Mobile Miner App have been added below
Want Help Regarding Electroneum ?
If you have more queries or issues you may ask at Ask Techie! or you can join an unofficial Facebook group with Electroneum Fan gathering : Electroneum Community ( Caution: Admins of the group are very biased and would bombard you with their own referral links and won't approve your posts )
Official channels for Electroneum support are : Email at  [email protected] and Telegram Community at https://t.me/joinchat/DxoSakHOdk5mqsE-LelfVg
Misc Queries
I am listing some questions where users have asked me a variety of issues regarding Electroneum
Electroneum Team gives a chance to Win 5000 ETN
[sociallocker]Electroneum has introduced a referral system which according to the application allows you to win 5000 electroneum weekly , Electroneum Team has not shared any details that for how long this campaign will go on. Follow these steps to add me as your referrals and share your referral code in comment which I will add giving us both the chance
Open Electroneum Mobile App
Select "More"
Select Scan a code and scan the QR Image given below
Or select "Enter A Code" and enter C55368 and hit Submit
Now Select "SHOW MY REFERRAL CODE / QR"
Share the QR Code or Code in Comments
Hope you win 5000 ETN[/sociallocker]
Electroneum Mobile App Mining Closes
Electroneum launched their 'Simulate Mobile Mining' – Some users having issues as the mobile app closes if the device stays inactive for some time. Its a built in feature for Android devices to close background apps after a certain time. Usually now Apps put in a 'awake state' but Electroneum App hasn't incorporated this feature.
To enable your Electroneum App to stay active and keep mining in background follow these simple steps
Step 1 : Go to Android Settings > Apps
Step 2 : Find Battery Optimization >Select "Electroneum" App
Step 3 : Disable Battery Optimization for Electroneum App
This fix should enable you to mine no matter for how long your device stays inactive
Mined ETN from Electroneum Mining App Vanished
If you have been using Electroneum Mining App and just saw your mined coins vanished, do not be alarmed. Electroneum pays out pending ETN after you have mined 5 ETN (generally they do after you reach 10 ETN) and they will automatically payout that amount which would appear as if your mined coins are gone.
Due to heavy load on Electroneum Network the same do not credit to your wallet instantly, worry not its automated procedure and they will eventually end up on your wallet. You don't have to do anything about it, just wait a while.
Post will be updated with new issues and solutions as they appear or you can ask solution to your query
Post Updated on 2 February 2019