You might have noticed the blue border and a privacy icon on some of your friends profile picture which is a new feature to protect your profile picture from copying and misusing.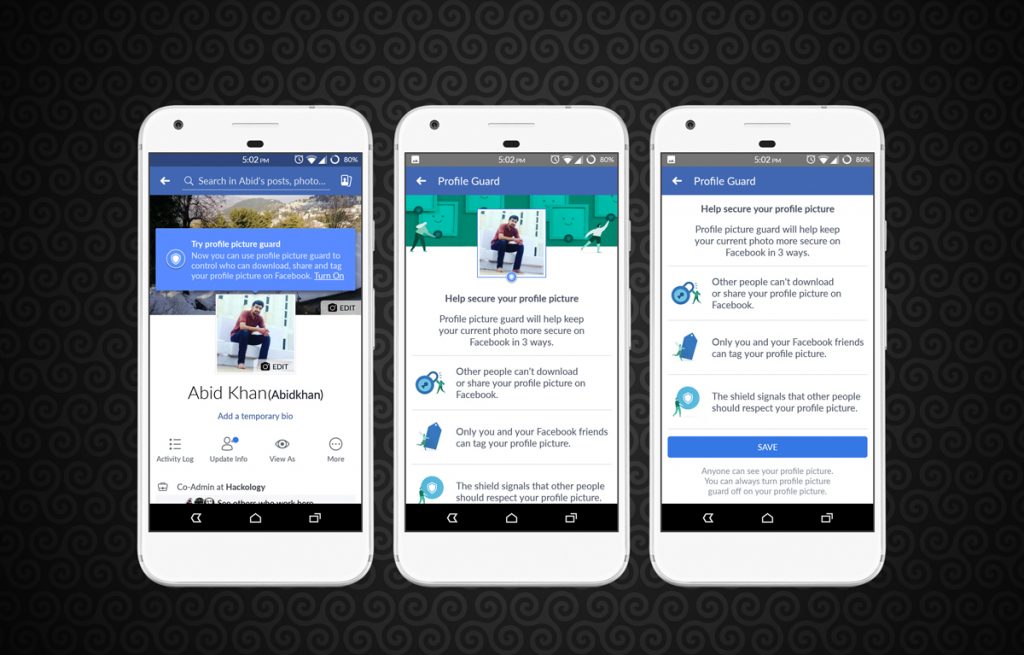 Recently I opted to enable profile picture guard feature on my profile. While wondering what this feature does, I started searching for it. Most of the sites like The Verge, Tech Radar etc. explain in their posts that this feature was announced for India only.
It was announced on Facebook newsroom on 21st June, 2017 by Aarati Soman, Product Manager at Facebook. According to her:-
Today, we are piloting new tools that give people in India more control over who can download and share their profile pictures. In addition, we're exploring ways people can more easily add designs to profile pictures, which our research has shown helpful in deterring misuse. Based on what we learn from our experience in India, we hope to expand to other countries soon.
As stated in the post:-
Based on preliminary tests, we've learned that when someone adds an extra design layer to their profile picture, other people are at least 75% less likely to copy that picture.
I tried to get the "add design layer" option by enabling and disabling profile picture guard and changing profile picture, but I didn't get that, so I think this feature is still being rolled out at some of my friends have received the same
While going through other Facebook profiles , I found some of them got this too; I am not sure either some didn't enable it or didn't even asked for it. It is not confirmed anywhere by Facebook that this feature is rolling out in countries apart from India. Maybe they are expanding this feature to other countries and testing in more profiles.
How Profile Protection Works
As announced by Facebook, this feature protects your profile picture in three ways:-
It prevents others from download or share your profile picture on Facebook,
It allows only you and your friends to tag your profile picture,
It applies a shield on your profile picture which signals that other people should respect your profile picture.
Additional Feature
You can add design to your existing profile picture to avoid copying your picture. This option is still not available at the time of writeup.
How to enable Facebook Profile Picture Guard
If you are lucky enough, you will be prompted to enable profile picture guard on your profile, or you can follow the guideline below to enable it.
Laptop / PC Users
Head over to Facebook Profile,
Click on your profile picture,
Hover the mouse on your profile picture,
Click options and then click on Turn on Profile Picture Guard.
Android Users
Open Facebook app (Updated to latest version),
Head over to your profile,
Tap on your profile picture,
Scroll down a little bit,
And Tap Turn on Profile Picture Guard.
Now you should see a blue border and privacy shield on your profile picture.
Why you should enable Profile Guard

To stop people from copying, sharing, or otherwise misusing your images,
To ensure that others can't send, share, or download your picture,
To keep strangers from tagging themselves in the image,
To Prevent others from taking screenshots.
If someone tries to capture a screenshot from android phone, it shows error "Can't capture screenshot" explaining it isn't allowed by the app or organization.
Though there are still some possibilities that users can take a screenshot, but this feature reduces the chance of misusing. If someone is using laptop or PC, they can use "PrtSc" button to take a screenshot and save it, or they can use inspect feature built-in in browsers to find and save your profile picture.
I hope Facebook will take measures to make it more secure.
What do you think about this feature? Do you see any practical use of this feature ? because as long as there is any way of capturing the image the point of Facebook Profile picture Guard makes no sense.