A word known by everyone and not always in good term is 'Hacking' and 'Hackers'. Those who are not technically inclined would be familiar with the word I mentioned and they would be waiting to blame everything to hackers because that is what movies made them believe, Hackers go crazy on the keyboard followed by a stern look with the words 'I am in' , 'Security systems disabled' or at times they take it to the next level 'Satellite is now under our control'. The examples are endless but I will leave it with this one image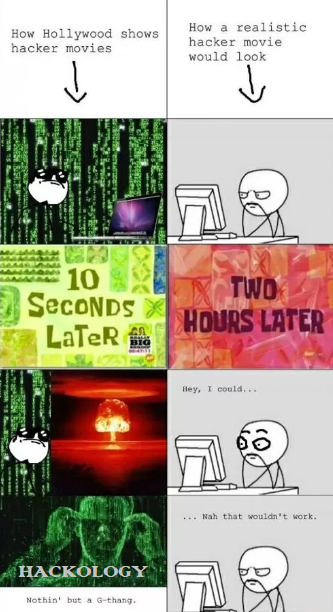 Hackers are the Good Guys
No matter what you believe and see on the internet , Hackers are not the bad guys and I wont say "all hackers" because that is obvious the same way we just happen to understand not "all" humans are bad. Today I will present to you the real jerks of the society , the most despicable lot : SCAMMERS. Scams are not new and we have covered How Scams Work even on our famous Hackology Portal which is on Archive mode.
Let's come to the point of my write-up , how scammers are using limited or not hacking skills and preying on people's fear to siphon of money.
Scammers : Using Fear of Hackers
Scammers are buying emails which are sold on various online forums (free or Deep web etc) and using that information they write email to their victim (owner of that email address) and telling them that their account has been hacked which lead to the hacking of victims computer and after monitoring the machine hacker saw the pervert nature of the victim and now demands a certain amount (going up to $1000) to be paid in CryptoCurrency and a bitcoin wallet address is given. One should be mindful that if you protect your network or your personal machine you can get away from such scams as your antivirus or VPN may flag them as as harmful email / content.
Although its a scam being pulled off in this case and the hacker might not even actually have access to anything. You will receive the following Email :
Hello!
I have very bad news for you.
09/08/2018 – on this day I hacked your OS and got full access to your account [email redacted]

So, you can change the password, yes… But my malware intercepts it every time.

How I made it:
In the software of the router, through which you went online, was a vulnerability.
I Just hacked this router and placed my malicious code on it.
When you went online, my trojan was installed on the OS of your device.

After that, I made a full dump of your disk (I have all your address book, history of viewing sites, all files, phone numbers and addresses of all your contacts).

A month ago, I wanted to lock your device and ask for a not big amount of btc to unlock. But I looked at the sites that you regularly visit, and I was shocked by what I saw!!!
I'm talk you about sites for adults.

I want to say – you are a BIG pervert. Your fantasy is shifted far away from the normal course!

And I got an idea….
I made a screenshot of the adult sites where you have fun (do you understand what it is about, huh?).
After that, I made a screenshot of your joys (using the camera of your device) and glued them together.
Turned out amazing! You are so spectacular!

I'm know that you would not like to show these screenshots to your friends, relatives or colleagues.
I think $776 is a very, very small amount for my silence.
Besides, I have been spying on you for so long, having spent a lot of time!

Pay ONLY in Bitcoins! My BTC wallet: 182PJESsEWbuJ8PEgfM58p64jbok3i1gNU

You do not know how to use bitcoins?
Enter a query In any search engine: "how to replenish btc wallet".
It's extremely easy

For this payment I give you two days (48 hours).
As soon as this letter is opened, the timer will work.

After payment, my virus and dirty screenshots with your enjoys will be self-destruct automatically.
If I do not receive from you the specified amount, then your device will be locked, and all your contacts will receive a screenshots with your "enjoys".
[HACKOLOGY]

I hope you understand your situation.
– Do not try to find and destroy my virus! (All your data, files and screenshots is already uploaded to a remote server)
– Do not try to contact me (this is not feasible, I sent you an email from your account)
– Various security services will not help you; formatting a disk or destroying a device will not help, since your data is already on a remote server.

P.S. You are not my single victim. so, I guarantee you that I will not disturb you again after payment!
This is the word of honor hacker

I also ask you to regularly update your antiviruses in the future. This way you will no longer fall into a similar situation.

Do not hold evil! I Just do my job.
Good luck.
If you read this complete email I am sure you would be laughing, that was my reaction when I first read this call-centre-scammer hacker.
Is this Scam Successful ?
Unfortunately Yes. When I saw this email, I quickly checked out the Bitcoin Wallet address shared by the scammer and I was surprised to see that in 1 week scammer was able to accumulate 1.9 BTC.
Although the scammer seems new to the game, usually scammers quickly empty their wallet to online exchanges and get some Anonymous CryptoCurrency and back to bitcoin or withdraw so they are not caught.
Update : In 5 Days the scammers have accumulated 3.35 BTC that makes it $12,830 in this bear market.
Got such an Email ?
Whatever you do, DO NOT PAY. If you have received such an email you can Contact Me Discreetly or Ask Techie for a customized answer. You may follow This Guide and also see View your Online Hacked Accounts.
Scammers take hold of your old password and emails from compromised websites , like 100 million Email and passwords of Quora will be on the market for scammers to buy, when they get these they send out emails and many people far for it. I would repeat DO NOT PAY ANYTHING ON SUCH THREATS.
Such Scams will stop if people stop paying.
Have you been scammed ? Got a Similar Email ? What did you do ?