Internet comes to this blog for getting the blank character irrespective of the application you use. But over time apps update and some intentionally try to break out the blank character as it is something which apps aren't prepared to see their users using.
I maintain a list of all variants of Blank Characters after all Hackology Blog is the first one to introduced the blank character on the internet.
Telegram Update Breaks Blank Character
Yesterday I was messaged by a user on Telegram that Hackology Blank Character turns into "-" once used and the change occurred without any app update which means the change was introduced in the back-end rather then the client side.
We had a problem but it's not the first time I faced something like this , so no worries. I little bit of research and I found a working blank character. I have updated the old article with the latest working character so Hackology Old Article on Telegram Ghost Profile will still work
Telegram Blank Profile / Comment Character
Head over to [Tutorial] How to make a Ghost Telegram Profile and follow the instructions as I have updated the article with a working blank character which can let you keep a ghost profile or send empty messages to your friends.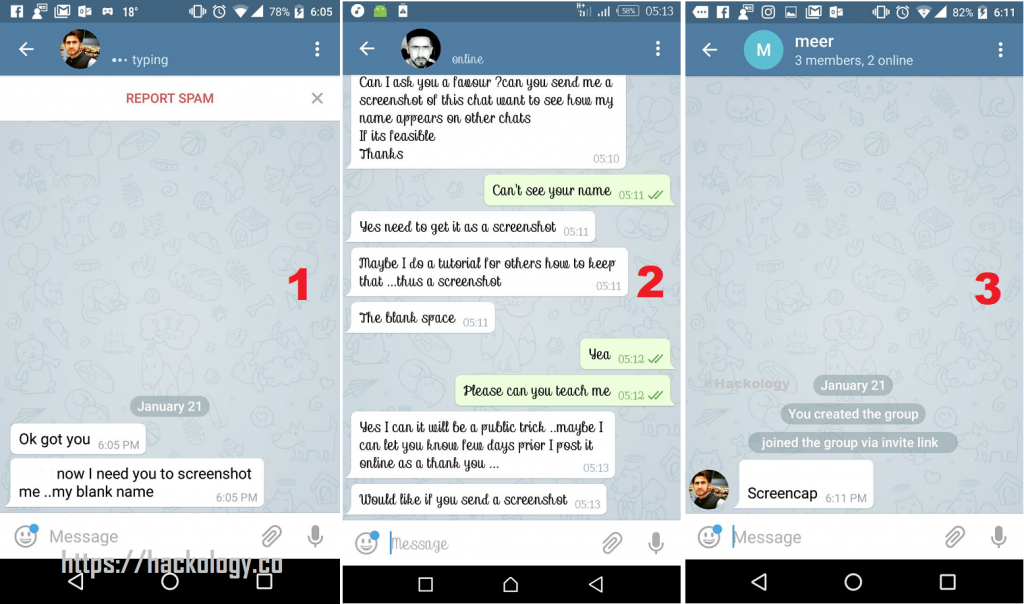 Conclusion
In computer programming, whitespace is any character or series of characters that represent horizontal or vertical space in typography. When rendered, a whitespace character does not correspond to a visible mark, but typically does occupy an area on a page thus making it a Blank Character. If there is a service or app where you want to use the blank character, let me know and I will try to work something out. I have already shared them for various apps / services.
How to make blank comment on Instagram and Facebook
How to make blank comment on YouTube Channel
How to keep blank name on Instagram
How to make/keep blank comment/status on WhatsApp
How to keep blank name on Telegram
How to keep blank profile on Ludo Star
Blank Comment on TikTok